15 October, Kathmandu. Ankit Subedi, Jhapa district's opener batsman, scored his first century in his cricket career.
After completing the century, he took off his bat and helmet and knelt on the field. And he covered his eyes with both his hands.
He was very emotional after scoring his first century and his eyes were full of tears while celebrating at the University cricket ground.
Ankit, who scored a century for the first time and played an important innings for Province 1, is such a player that his home district had stopped believing in.
Ankit, who became an alternate player of the U-19 national team in the year 2074, was asked why in Jhapa when he is now in the provincial team.
Even though the district president and coach put him in the team on the basis of his ability, he used to use his fitness problem as a weapon and questioned him.
But the century he made against Bagmati Province has put a strong lock on the mouths of all of them. 'Even though I did well, how did I get into the provincial team? Why did you fall? There were a lot of negative comments. I proved myself by scoring a century this time.'
He is very happy that he scored a century to win the team. "I scored a century for the first time and the team won because of that century, so I am very happy", said Ankit, who won the team by 69 runs.
He scored a hundred by hitting 11 fours and 1 six off 122 balls, playing with restraint from the opening.
He had not played such a big innings before. He said, 'I played up to 47 overs and never played such a big innings. The wicket was good. Because of this, after scoring a half-century, I was supposed to score a century, it happened.'
It was a chance for him to show that he has not been able to play long innings lately. Which he made good use of. 'I should have shown this shift. I was afraid that if I didn't do it this time, my sports career would end. That's why I worked hard, I thought that I can play and win the team in other games as well.'
A centenary celebration in the name of those who believe in themselves
Ankit said that he was able to come here and play because of the team's support. "Despite the disapproval of the district team, the president of the district, Manoj Katuwal and coach Lakpa Lama believed in me, so I celebrated," he said, recalling the emotional moment during the celebration.
'Everyone reported. Even though my fitness problem was seen in the provincial selection, the selection department, captain and coach believed in me', his throat was heavy even when he exchanged century greetings with the journalist.
A frozen pair of ankit and theory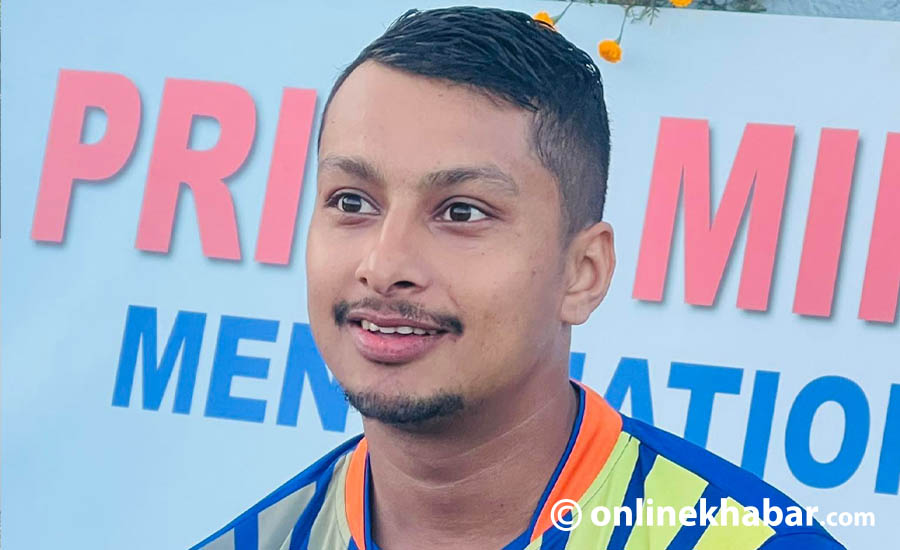 Before this, the players of Province 1 could not play century innings for a long time. Katan Siddhant is very happy that Ankit has followed the rhythm after a long time. 'It has been a long time since our province could not score a century in the senior team. Ankit played a very good century innings.'
'After a good run on the scoreboard, we all did well. Today there were 11 all-rounders in the team", said captain Siddhant.
"It became very easy after Siddhant Dai came, even before this we have shared a century in 3/4 of the matches", said Ankit.
Ankitko and Siddhant also shared a century partnership of 131 runs for the sixth wicket for Province 1.
Captain Siddhant and Ankit have another strange coincidence.
When Siddhant, who is considered to be a connoisseur of helicopter shots, scored a century in the Everest Premier League in 2021, Ankit was his partner.
When Ankit scored a hundred today, his partner was Siddhant. Ankit was with me when I scored my first century. I was with him when he scored a century today. The partnership between the two of us was very good before," said Siddhant.