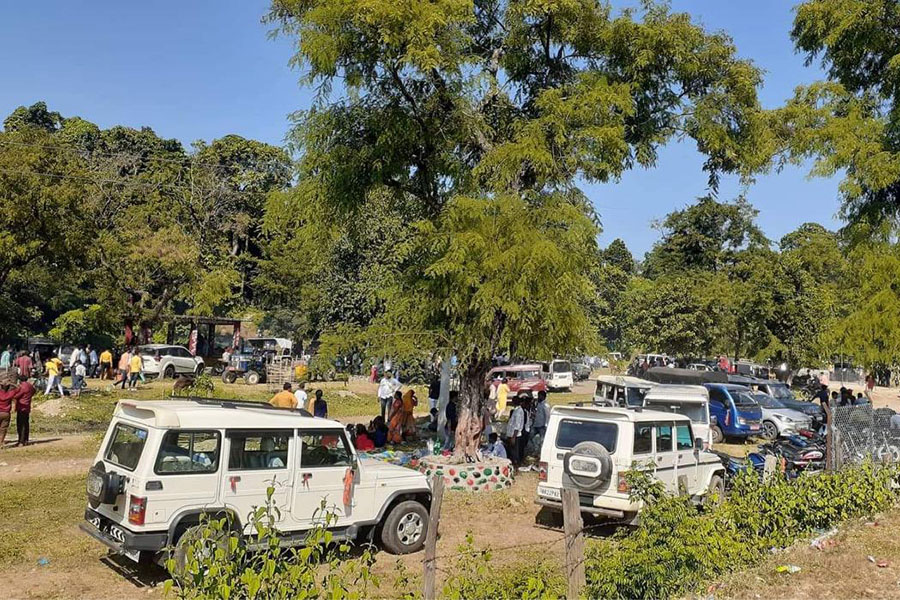 Raidhara is a tourist spot in Thori
15 October, Birgunj. As soon as the Diwali and Chhath festivals are over, the activity of Nepalese and Indian tourists has increased in the thori of Parsa. Due to the corona epidemic, the tourist activity which has slowed down in the past years has increased this year.
After the Chhath festival, tourists came from the bordering Indian cities of Jamunia, Narkatiyaganj, Ramnagar, Patna and other places, while tourists from Nepal's Birgunj, Pokhria, Barako Simra, Kalaiya and other places reached Thori. Locals have said that the number of people coming in groups or as families and returning after eating forest food has increased. Thori Tarai known as 'mini valley' surrounded by green hills is an attractive tourist destination of Madhes.
Tourists come to Ranivan, Amrit Dhara, Raidhara, Bulbule, Chisapani Chaur and other areas to eat forest food. Tourists also visit here to see the White Hill, Red Hill, Sinehi Hill, Shanishcher Hill, Chisapani Hill, Dharni Khola, Barrack Khola, Manmohan Smriti Park, Ganeshman Park, Buddha Stone Park, Thute Khola Bridge, Shaheed Smarak, Baghmorcha Khola, Dharni Khola Suspension Bridge. They have reached the threshold.
A tiger statue has also been built at the Raidhara picnic spot to attract tourists. Basnet said that because of this, there is a crowd of tourists to take selfies at the place where the tiger statue is made.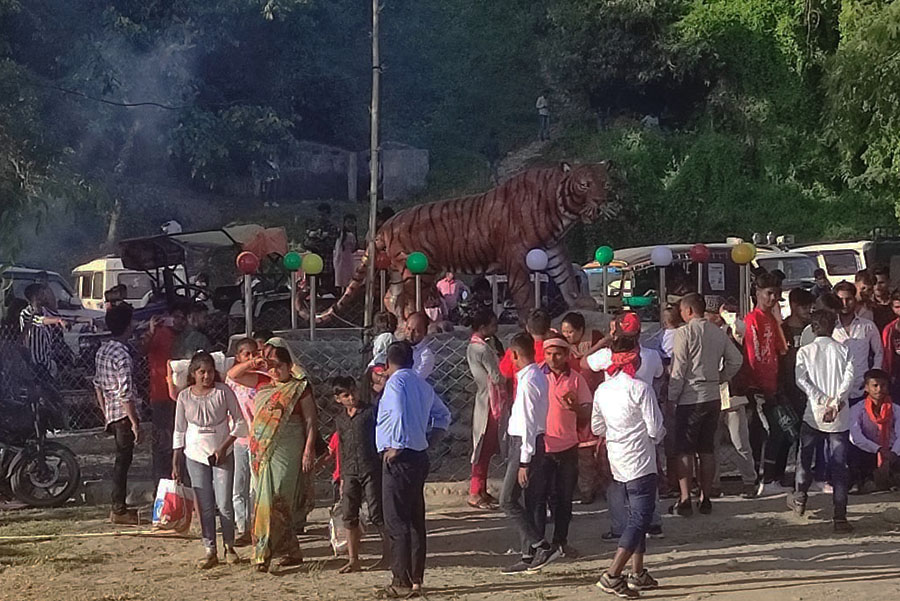 Similarly, people also come to worship in religious places such as Sita Cave, Vanashakti Temple, Baghmorcha Mai, etc. in Thori. Ranivan, Amritdhara, Chisapani, Sitagufa, Vanashakti Temple are also the preferred areas of tourists.
Balkumar Basnate, Chairman of Nirmal Thori Intermediate Consumer Committee informed that every year after the end of Tihar and Chhath festival, thori is thronged with tourists to visit and have a picnic. According to him, Rs 50,000 has been collected from vehicle parking fees at 'Picnic Spot' Raidhara only after Tihar.
A picnic spot has been brought into operation on the bank of Thutekhola in Thori Rural Municipality-2 under Vanshakti Community Forest. The Nirmal Thori Intermediate Consumer Committee has taken over the management of the picnic spot. According to Basnet, the Vanashakti Community Forest Committee is inactive in the protection and management of the Raidhara area, so the Nirmal Thori Intermediate Consumer Committee has been protecting and managing it.
A fee of 200 rupees for Nepalis and 320 rupees for Indians has been fixed for parking light four-wheelers coming for picnics in Raidhara area. For tractor and bus parking, Nepalis have to pay 500 rupees and Indians have to pay 800 rupees. Basnet said that cleaning and other management work will be done with the money collected from the parking fee. Some people say that although Thori is a good tourist area, it has not been properly managed.
On 11 Chait 2078, the Madhesh state government declared Thori Rural Municipality a tourist area and announced a budget of 10 million for infrastructure development. But that amount has not been received, said the rural municipality.